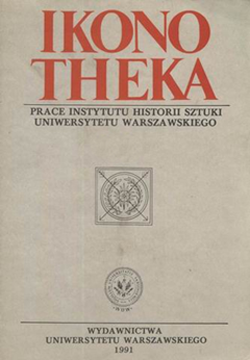 What is Ikonotheka?
The periodical "Ikonotheka", launched by Jan Białostocki, has been published by the Institute of the History of Art since 1990. Members of the periodical's editorial committee are Dr Barbara Arciszewska (IHS UW), Prof. Sergiusz Michalski (Eberhard Karls Universität Tübingen), Dr Andrzej Pieńkos (IHS UW) and Prof. Antoni Ziemba (IHS UW). Dr Gabriela Świtek has been its the editor-in-chief since 2014.
Initially, the contents of the periodical reflected mainly the academic interests of the Institute's staff; in addition, it published numerous articles by the Institute's graduates, mainly based on extracts from their Master's dissertations. In the following years, the circle of the authors widened to include scholars from other Polish centres of learning and from abroad.
Special issues were dedicated in memoriam of Teresa Mroczko, Karol Sterling and Andrzej Jakimowicz, to Karolina Lanckorońska on the one-hundredth anniversary of her birthday, to Piotr Skubiszewski, Barbara Dąb-Kalinowska and to Wiesław Juszczak. Several thematic issues have also appeared, focusing, for instance, on the artistic relations between Poland and France and between Poland and Switzerland, or to art in the era of the People's Republic of Poland.
Institute of Art History of University of Warsaw
00-927 Warszawa, Krakowskie Przedmieście 26/28
tel. (22) 552 04 06
fax. (22) 552 04 07
e-mail: ikonotheka@uw­.edu.pl
Archival issues of the periodical (from 17: 2004) are available from the Publisher:
Wydawnictwo Uniwersytetu Warszawskiego
ul. Nowy Świat 4
00–497 Warszawa
Sekretariat: tel. 022 55 31 318, fax: 022 55 31 337
Dział Handlowy: tel. 022 55 31 333
www.wuw.pl